Established in 1978, Hands of Time Clocks is one of the
premier clock dealers in the Mid Atlantic. Featuring
Featuring both new and antique clocks, Hands of
Time's selection includes clocks made by America's
top clock manufacturers. The clock showroom and
full service repair department are located in
Historic Savage Mill, 8600 Foundry Street, Savage,
MD 20763. Hands of Time Clocks offers delivery and
set up on all Grandfather clocks in the Baltimore
Washington DC area.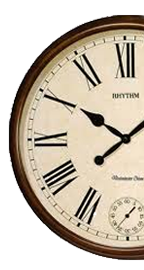 Brands:
Howard Miller
Rhythm
Ridgeway
Comitti
Hermle
Seiko
Bulova
Schneider
Hansful
Timeworks
Ashton Sutton
Karlsson
Present Time
Sanis
Animated Animations
Infinity
Lacrosse
Loricron
Feldstein
California Clock Co.
Rhythm MH832 Nostalgia Legend Musical Clock

Legend Musical Clock

Opening dial with five golden bells
Classic Walnut frame
Features crystals with gold and silver accents
Rhythm masterpiece featuring 18 melodies

Schneider Black Forest 90/9HZ 12 Inch 1 Day Cuckoo Clock

Black Forest Clock

Made in the Black Forest region of Germany
Antique finish featuring a delicately carved bird
Made from real Black Forest linden wood
Cuckoo calls come on both half and full hours
Decorative metal pinecones are counterweights

Andrea 635-144 Mantel Clock by Howard Miller

Howard Miller Clock

Made in the Black Forest region of Germany
Antique finish featuring a delicately carved bird
Made from real Black Forest linden wood
Cuckoo calls come on both half and full hours
Decorative metal pinecones are counterweights